Fantastic. You are now on the waiting list, please check your inbox for our confirmation email!
Please select your size
XS
S
M
L
XL
XXL
3XL
The New Oxford
Upstate Cotton Flannel
$258
A true workshirt: tough and durable, but damn it's soft and elegant. With locally-made fabric-covered buttons. Heads up: this fabric is limited edition and likely to sell out before holiday!
Inspired by a mix of 1930s industrial wear and 1980s power dressing, The New Oxford in Upstate is relaxed in the shoulders, strong in the collar, and made in cozy cotton flannel. The shirt boasts a front pocket, pleated cuffs, an extended hem, a back box pleat that rests between your shoulder blades, and locally crafted, custom fabric-covered buttons that nod to the women's shirting of yore. Lastly, the swoop of the back hem frames your butt beautifully and keeps it nicely covered when you bend over
.
Nya, pictured here, has a 30" bust, 23.5" waist, and 36" hip and wears a size Small. With those measurements, she could also fit comfortably in an XS.

Why we make it:
Because it's a workhorse that looks like a show horse.
We couldn't find an Oxford in a quality fabric that fit our body well, so we went ahead and made it. Wear it buttoned up, straight against your skin, or open over a tank as a light jacket - don't be shocked if you wear it 5 days in a row.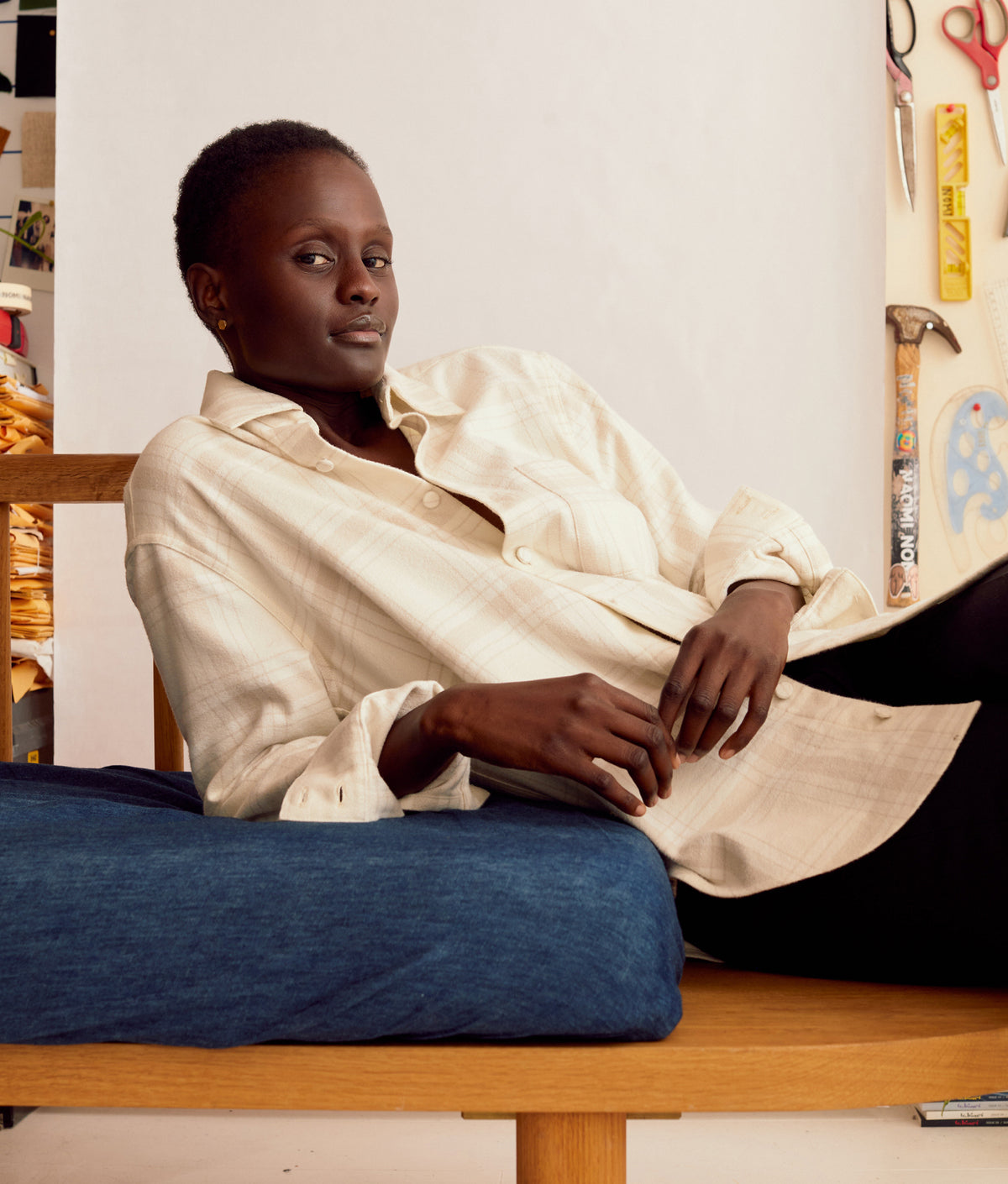 Like a better cardigan.

Warm, fluffy, and with bedding-level softness, it's a layer you'll reach for from autumn to spring.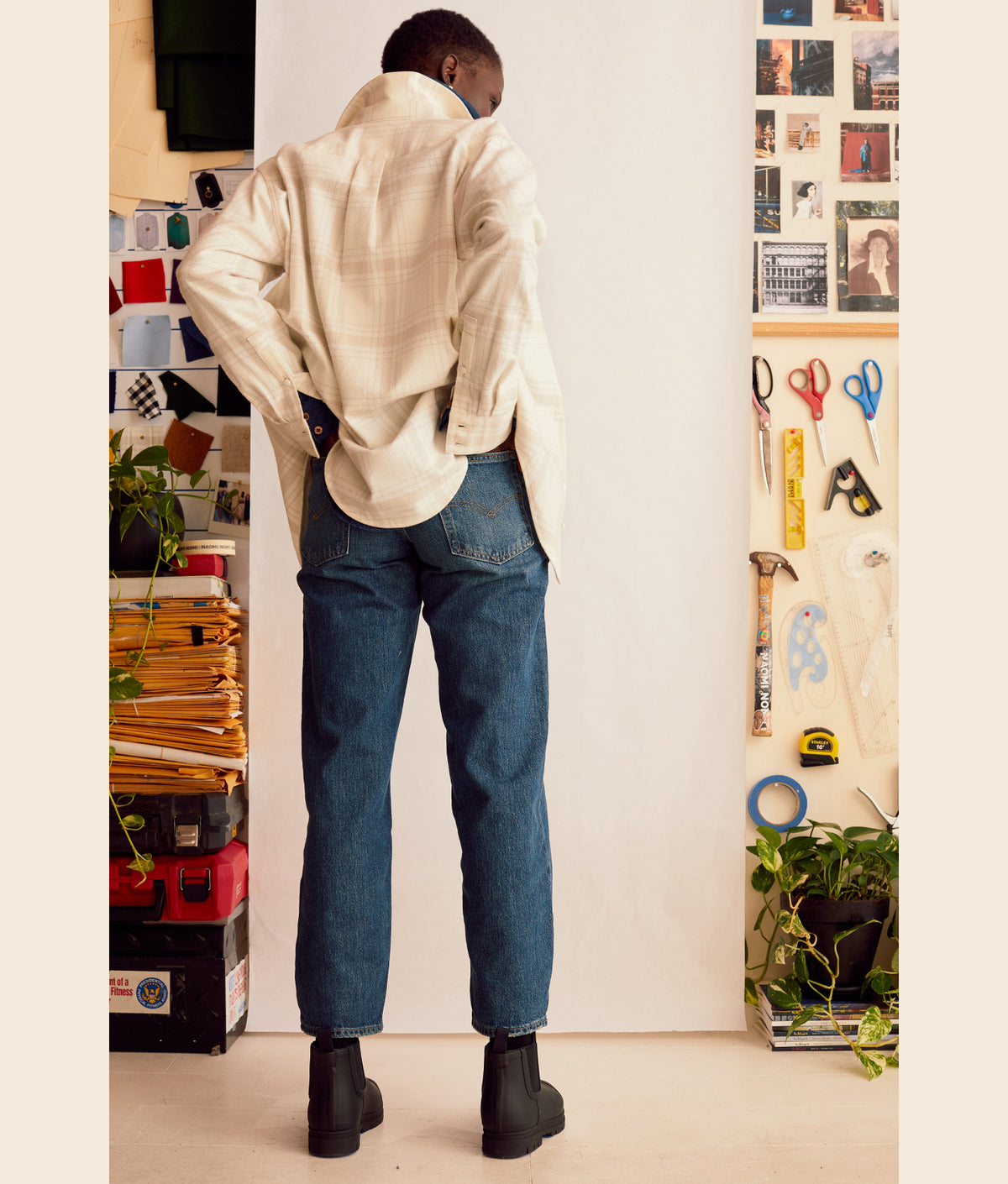 Gently secured




Covered in the excess fabric scraps from the making of the shirt, even the buttons are lusciously soft to the touch.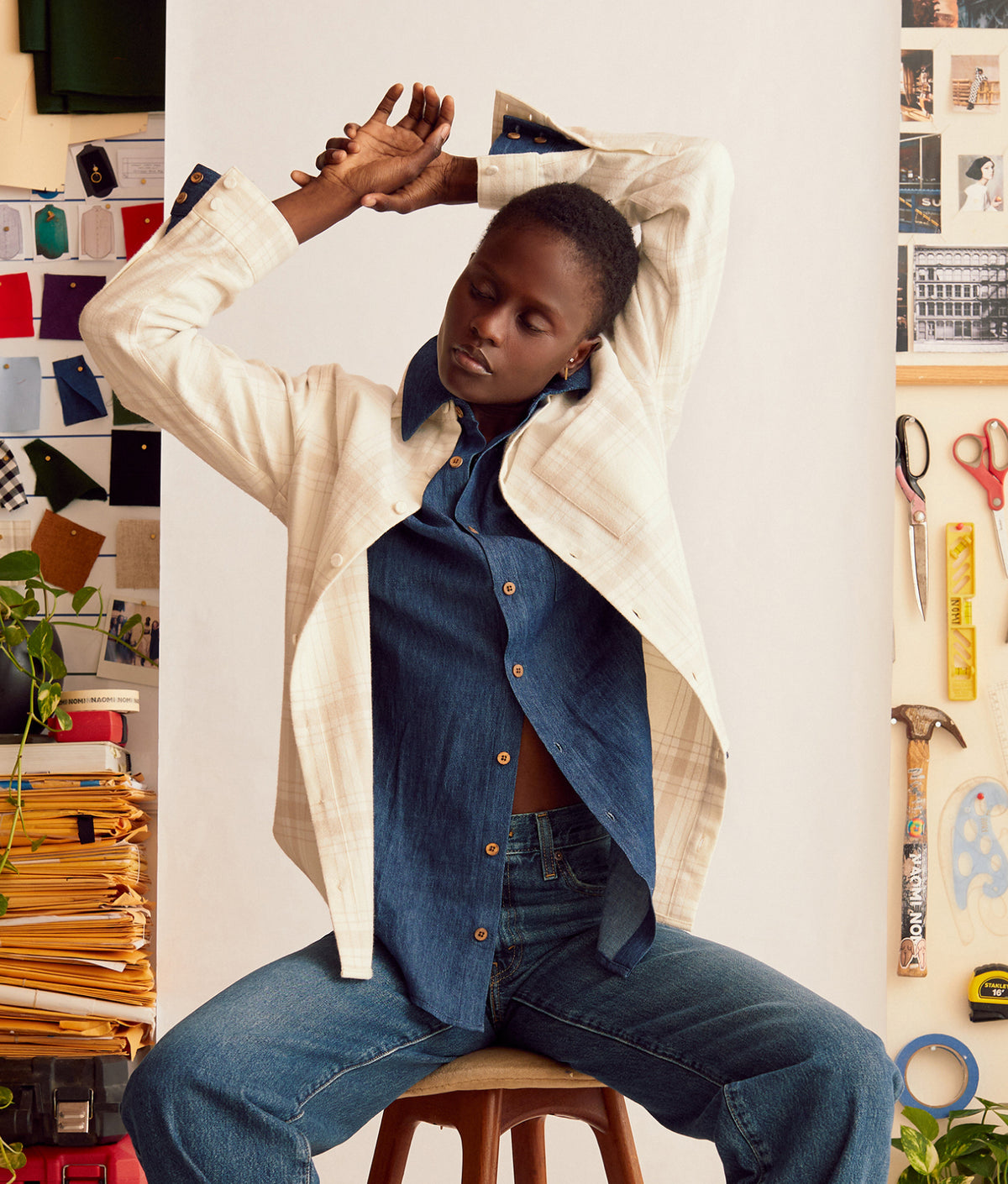 Meet our Cotton Flannel
With a finer, softer, and fluffier hand feel than merino wool, cotton flannel packs an incredible warmth-preserving punch without being quite as heavy as other typical cool-weather fabrics. What distinguishes flannel from other cotton textiles is the thread is loosely spun and brushed with metal to gently raise small fibers that give it its characteristic downy feel. Ours is sourced from a family-owned & operated mill specializing in cotton and - for you art nerds out there - features a plaid pattern inspired by the famous Malevich piece, "White on White."


Why is this shirt called an Oxford?
Back in the 19th century, a guy who owned a Scottish textile mill had a brilliant idea for a marketing campaign: name the season's fabrics after all the fancy universities. All the rich boys who go to these schools will want them and they will all sell - cue happily ever after. Well, it kind of worked! No one really liked the Cambridge, Harvard and Yale weaves, but the Oxford — now that was a hit. Known for its yarn's criss-crossing basket weave, Oxford cloth became the go-to garment for British polo players (it was breathable and the closest thing they had to sportswear).
Today, Oxford shirts are made in all types of fabrics - including and especially sumptuous cotton flannel)